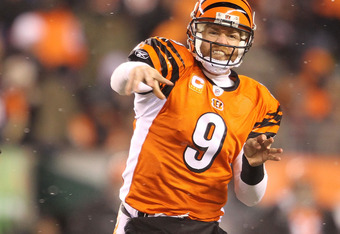 It looks as though quarterback Carson Palmer has played his final game for the Cincinnati Bengals

Andy Lyons/Getty Images


Cincinnati Bengals quarterback Carson Palmer and his wife, Shaelynn, are expecting the birth of their third child at any moment, and Palmer appears to be seeking a rebirth as far as his football career is concerned as well.
ESPN's Chris Mortensen announced Sunday afternoon that Palmer is determined to get out of Cincinnati.
According to Mortensen, Palmer, the first overall pick in the 2003 draft, is so adamant about being traded to a team of his liking that he is even prepared to threaten retirement should the Bengals not comply with his wishes.
Three quarterback-needy teams that come to mind as possible destinations are the Seattle Seahawks, where he could play for Pete Carroll, his former head coach at USC when Palmer won the Heisman Trophy; the San Francisco 49ers, where his wife is from; and the Arizona Cardinals, where head coach Ken Whisenhunt has AFC North ties, having been an assistant with the Pittsburgh Steelers. All three teams are closer to home for Palmer, who hails from the West Coast. 
Palmer had a roller-coaster 2010 season, throwing for 3,970 yards and 26 touchdowns, but also tied his career high with 20 interceptions. His turnovers this season, including two costly fumbles at Cleveland and Baltimore, were cause for concern and infuriated an already frustrated Cincinnati fan base.
Cincinnati holds the fourth overall pick in April's draft, and the Bengals now must decide if they'd like to use that pick to select a quarterback or pursue one via trade or free agency.
There is no experience on the depth chart behind Carson Palmer. The only other quarterbacks on the Bengals roster are Jordan Palmer, Carson's brother, and Dan LeFevour, who the Bengals claimed off waivers after he was released by the Chicago Bears.
The last time the Bengals organization was faced with a similar situation, owner Mike Brown did not give in to Chad Ochocinco's trade demands. In 2008, not only did Brown force Ochocinco, then known as Chad Johnson, to honor his contract; Brown also turned down a trade for Ochocinco proposed by the Washington Redskins that would have given the Bengals a 2008 first-round pick and a 2009 draft choice.
The Bengals could have a much different look next season, as Palmer, Ochocinco, and running back Cedric Benson may not return. Wide receiver Terrell Owens will explore free agency and will not return to the team. In light of news that former Minnesota Vikings head coach Brad Childress had dinner with Bengals head coach Marvin Lewis to discuss "X's and O's," offensive coordinator Bob Bratkowski's future is in question.
In the coming months, it will be interesting to see what kind of market develops for Palmer's services and what the Bengals will demand in return. However, Palmer cannot be traded until a new collective bargaining agreement is reached.
Source: Carson Palmer Demands Trade Out of Cincinnati: Bengals May Need New Quarterback
Tags: ass, bengals, bra, brown, car, carson, carson-palmer, Cher, chi, chris, d, game, h, have, heisman-trophy, hot, hotos, l, löre, new, news, nfl, north, ochocinco, palmer, photo, photos, play, quarterbacks, search, v, yahoo