Erin Andrews
is a sports reporter, TV personality and, now, a super sleuth?
The Fox Sports broadcaster reveals the sly skill that helps her get the scoop on the sidelines in the September issue of Health magazine, on newsstands Friday.
"I feel like a spy half the time," she says. "In the NFL, we can't report on injuries until the NFL has said what the injury is, but I hear so much stuff, like, in the huddles, a player saying, 'I just ripped my knee – I'm done.' I've gotten really good at lipreading, and my boyfriend hates that!"
Andrews, 36, flexed a different set of skills in her first season as co-host of Dancing with the Stars – though that gig put her under even more public scrutiny, with viewers criticizing her looks.
"It's hard when somebody says something and you want to put them in their spot," she says of Twitter haters. "I've gotten 'You look like Brad Pitt' or that I look like a bird, and I'm just like, 'Really?' "
"I recently Tweeted a photo of a David Yurman ring I was wearing, and I didn't have any moisturizer on, and they were like, 'Your hands look like the old lady from

Though the stunning sportscaster is confident in her naturally good looks (she feels most sexy "in a sweatshirt and a pair of boy shorts"), she admits she wouldn't be opposed to some cosmetic tweaks down the line.

"I've never done it, but I'm curious about all of it. I've seen great work, and I think we've all seen bad," she says of plastic surgery. "I'm sure there will be a time in my life when I'll want to look into it, but it's just not right now."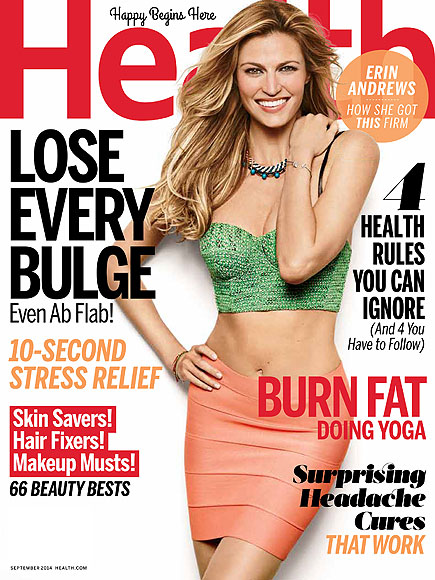 Source: Erin Andrews: Why 'I Feel Like a Spy' During Football Games