10/30/2014 at 01:05 PM ET
You can always count on a homemade, Instagram-worthy Halloween costume from Lauren Conrad. There was the tulle-clad Tooth Fairy of 2013. The pretty ghost (which also required a lot of tulle) of 2012 and the Britney Spears throwback moment of 2011. This year the crafty star is giving the direct-to-Pinterest signature LC spin to an old classic: the glittery mermaid.
Courtesy Lauren Conrad; Getty
Conrad shared a detailed step-by-step process for making the costume — from the shell bustier to the sequin skirt — on her blog (you better get going if you want to have this ready for tomorrow). Will she wear a wig now that she cut off her mermaid hair? TBD. So while we wait for her complete look, let's reminisce about some of the best sexy star sirens from Halloween's past (and get you a little under-the-sea inspiration if you're still .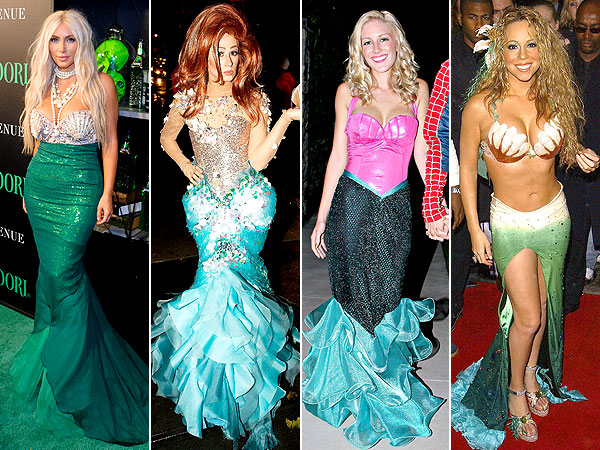 Getty (4)
• Kim Kardashian, 2012: Yes, the 34-year-old star's costume looks very similar to the one Conrad created. (We wonder if Kim was pinned up on Team LC's vision board.) Another fun fact about Kim's look? That blonde wig cost $2,000.
• Christian Siriano, 2009: Almost unrecognizable, the designer went for more of an Ariel effect at the the Heroes vs. Villains party in N.Y.C.
• Heidi Montag, 2007: Conrad's Hills alum ditched the wig and seashells, opting instead for a more mermaid-by-way-of-Halloween-superstore vibe.
• Mariah Carey, 2003: The hair. The abs. The push-up bra. No one beats vintage Mariah. No one.
Are you a fan of Conrad's mermaid costume? Are mermaids a bit out-played? Share your thoughts below.
–Brittany Talarico

Source: See Lauren Conrad's DIY Mermaid Costume – and the Sexiest Halloween Sirens Ever