The SpaceX Dragon resupply capsule approaching the International Space Station
NASA-TV/AP
Space station astronauts got a
special Easter treat
: a cargo ship full of supplies.
The shipment arrived Sunday morning via a Dragon, versus a bunny.
The SpaceX company's cargo ship, Dragon, spent two days chasing the International Space Station following its launch from Cape Canaveral. Astronauts used a robot arm to capture the capsule 260 miles above Egypt.
More than 2 tons of food, spacewalking gear and experiments fill the Dragon, including mating fruit flies, a little veggie hothouse and legs for the resident robot. NASA also packed family care packages for the six spacemen.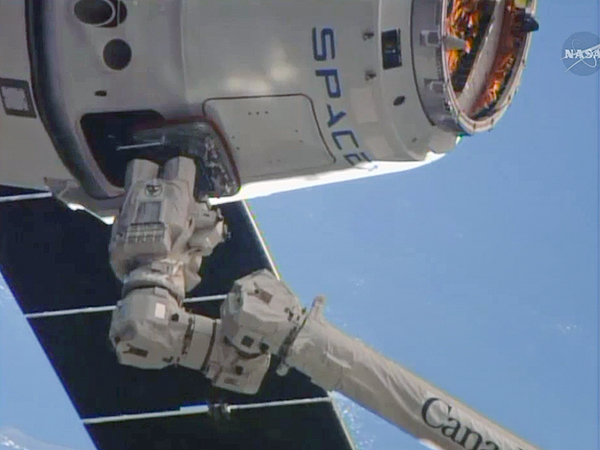 On Wednesday, the stakes will be even higher when the two Americans on board conduct a spacewalk to replace a dead computer. NASA wants a reliable backup in place as soon as possible, even though the primary computer is working fine. The backup failed April 11.
The SpaceX delivery wasn't exactly express. The launch was delayed more than a month. A minor communication problem cropped up during Sunday's rendezvous, but the capture still took place on time and with success.
SpaceX flight controllers, at company headquarters in Hawthorne, Calif., exchanged high-fives, shook hands, applauded and embraced once Japanese astronaut Koichi Wakata snared the Dragon with the station's hefty robot arm.
"Great work catching the Dragon," radioed NASA's Mission Control in Houston. "Thanks for getting her on board."
The capsule was solid and stable for grabbing, Wakata reported, making the job easy. He congratulated the SpaceX team and added, "we're excited."
The Dragon will remain attached to the space station until mid-May. It will be filled with science samples – including the flies – for return to Earth.
NASA is paying SpaceX as well as Virginia's Orbital Sciences Corp. to regularly stock the orbiting lab. These commercial shipments stemmed from the 2011 retirement of the space shuttles. This was the fourth station delivery for SpaceX.
Russia, Japan and Europe also make occasional deliveries.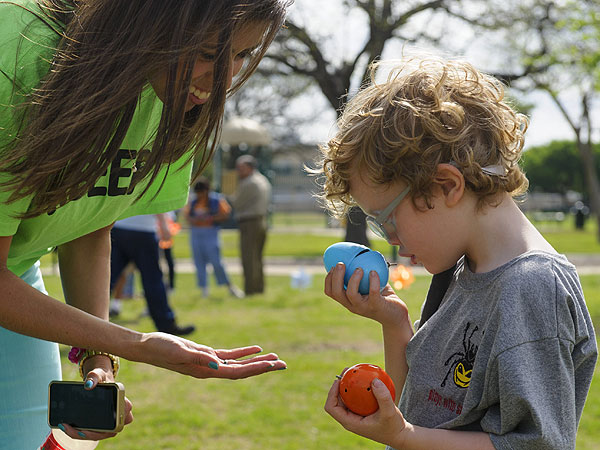 Matthew Busch / The Dallas Morning News
Follow PEOPLE on Facebook!

Source: International Space Station Receives Important Easter Morning Delivery

Proud new parents, Danielle and Kevin Jonas, are giving a sneak peek inside their newborn daughter Alena's playroom — and it's gorgeous! Celebrity Baby Scoop has the exclusive details of the fun room, including images and a quick chat with the designer, Vanessa Antonelli.
"The playroom is so cool! My good friend Vanessa from NessaLee Baby designed it," Danielle told Celebrity Baby Scoop. "Our home is traditional, and with her nursery being a light purple, we wanted to do something different with the playroom, which is royal blue brown white and orange with multiple different textures."
As for the inspiration behind the custom-designed playroom, Lee says it was all about combining fashion with function.
"Functionally fashionable was the goal," the designer shares. "Kevin and Danielle have a modern sense of style that I infused into the space and made sure everything in it would take them for many years. It's glam, but not too girlie in case there are more Jonas babies in their future."
It sounds like the new parents were very involved in the design process.
"Both Danielle and Kevin loved the idea of navy as opposed to traditional playroom colors or pinks," Lee shares. "They knew exactly what they wanted as far as functionality. It was important to have couch seating, play seating, book storage, toy storage, additional open space for future toys and a changing table to use now."
In terms of favorite elements of the room, Lee says it's all about the details.
"I love the little details about this room." she says. "The tiny pom poms on the drapes are just darling! The bird wallpaper and textured bark wallpaper tie back to the tree bookcase and the room's subtle theme. The way the navy overlays on the closet doors blend so well with the changing table's style completes the look. Plus, who can resist a teeny tiny ghost chair?"
For more information on the Jonas baby playroom, head over to NessaLee Baby…

Source: Danielle & Kevin Jonas: Take A Look Inside Alena's Playroom